GLASSTRESS WHITE LIGHT / WHITE HEAT
June 1  – November 24, 2013
Collateral Event of the 55th International Art Exhibition – la Biennale di Venezia 
Curated by Adriano Berengo, James Putnam
Palazzo Franchetti | San Marco 2847, Venice
Berengo Centre for Contemporary Art and Glass | Campiello della Pescheria, Murano
Scuola Grande Confraternita di San Teodoro | San Marco, 4810, Venice
Contemporary Artists + glass = GLASSTRESS
Glasstress, collateral event of the 55th International Art Exhibition – la Biennale di Venezia, in its third appearance in the lagoon, was open to the public from June 1 to November 24, 2013.
Glasstress. White Light / White Heat, curated by Adriano Berengo and James Putnam, proposed the participating artists to deal with light and heat, intrinsic aspects of glass and its working. Glass is born from the creative and destructive force of fire, which transforms the basic chemical elements into a mouldable fluid. The result is a matter solid, yet with a chaotic molecular structure providing light with a limitless variety of surfaces, colors, transparencies and reflections.
Glasstress was conceived by Adriano Berengo. It started with the 2009 edition of the International Art Exhibition – La Biennale di Venezia to allow glass "escape" from its ornamental prison, restoring it to the artists' expressive process. Among the artists invited to participate in Glasstress from all over the world, many have been confronted for the first time with this material.
The following 65 artists participated:
AES+F, Alice Anderson, Polly Apfelbaum, Ron Arad, Ayman Baalbaki, Miroslaw Balka, Rina Banerjee, Fiona Banner, Pieke Bergmans, Budicca, Pedro Cabrita Reis, Loris Cecchini, Hussein Chalayan, Mat Chivers, Oliver Clegg, Mat Collishaw, Tony Cragg, Tracey Emin, Paul Fryer, Francesco Gennari, Recycle Group, Cai Guo-Qiang, Dmitri Gutov, Stuart Haygarth, Mona Hatoum, Charlotte Hodes, Shirazeh Houshiary, Shih Chieh Huang, John Isaacs, Michael Joo, Ilya&Emilia Kabakov, Kiki&Joost, Joseph Kosuth, Hew Locke, Delphine Lucielle, Alastair Mackie, Jason Martin, Kris Martin, Oksana Mas, Whitney McVeigh, Aldo Mondino, Mariko Mori, Tim Noble &Sue Webster, Tony Oursler, Lucy Orta, Mimmo Paladino, Cornelia Parker, Javier Pérez, Jaume Plensa, Karim Rashid, Ursula von Rydingsvard, Thomas Schutte, Joyce Scott, Conrad Shawcross, Sudarshan Shetty, Meekyoung Shin, Helen Storey, Zak Timan, Gavin Turk, Koen Vanmechelen, Joana Vasconcelos, Martin Walde, Zhan Wang, Zak Ové, and Marta Klonowska.
Ron Arad presented the special project Last Train.
The exhibition took place in three locations, namely: in addition to the now familiar venues of Palazzo Cavalli – Franchetti / Istituto Veneto di Scienze Lettere ed Arti – Venetian Institute of Sciences, Letters and Arts (Campo S. Stefano) and the Berengo Centre for Contemporary Art and Glass (Murano), this year a third institution has joined: the Scuola Grande Confraternita di San Teodoro (San Marco).
The exhibition is accompanied by a significant book in English with texts by Adriano Berengo, James Putnam, and Frances Corner.
Glasstress 2013 is promoted by LCF-London College of Fashion, with the support of Venice Projects, Berengo Studio 1989, Wallace Collection, Julius Baer Bank, Steinmetz Diamonds, and Valmont.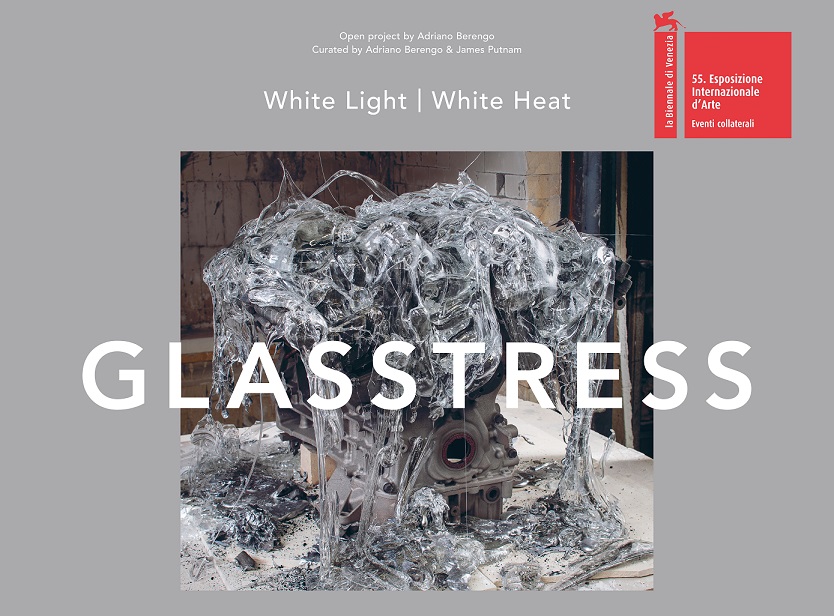 Fondazione Berengo
San Marco 2847
30124 Venezia - Italy
+39 041.739453
comunicazione@berengo.com